Bankruptcy has serious long-term financial and legal consequences. It is a complicated legal procedure. Every case is unique, and specific questions about bankruptcy should be directed to a lawyer. The bankruptcy court is not permitted to provide legal advice. Self-represented filers are expected to follow and abide by the rules that govern the practice of law in the United States federal courts. Self-represented filers must comply with the United States Bankruptcy Code(link is external), the Federal Rules of Bankruptcy Procedure(link is external) and the local rules of this court. 
eSR Features
---
What is Electronic Self-Representation (eSR)?
This system is designed for use by self-represented debtors to prepare their voluntary chapter 7 bankruptcy case petition, schedules, and statements electronically.  The system allows you to electronically submit the forms to the clerk's office. When presented with the filing fee, signature pages, and the additional items to be completed, the clerk's office staff can then electronically open the case.
Who can use eSR?
The person filing for bankruptcy must be an individual filing a chapter 7 case.  The person filing for bankruptcy also must have resided or has had a residence, principal place of business, or principal assets in the Southern District of Alabama for 180 days before the filing of the bankruptcy case or for a longer part of such 180 days than in any other district.
There is no additional cost to submit a bankruptcy package using eSR, outside of the regular filing fee. eSR guides you step-by-step through the process and performs all calculations.
Can attorneys or bankruptcy petition preparers use eSR?
No, attorneys or bankruptcy petition preparers cannot use eSR. Attorneys must register for electronic filing.
What should I do before I use eSR?
Check to see that you meet the minimum system requirements:

Internet connection
Adobe Reader (version 8 or higher)
Pop-up blocker must be disabled
Browser requirements - It is recommended that you use the latest version of Mozilla Firefox, Internet Explorer, Chrome or Safari.
Printer

Review the resources about bankruptcy
Complete the credit counseling course from an approved credit counseling agency(link is external).
Collect all of your financial documents before you begin.
As part of the filing process, you will create a user profile, unique login, and password.
You must provide a valid email address so you will receive notifications from the court.
The user's full name and telephone number must be those of the person filing bankruptcy.
Please provide a telephone number so that the clerk's office can call you if your bankruptcy petition package has a problem and is returned unfiled. If you don't provide a phone number, you will be contacted by email.
You should use eSR to submit a complete bankruptcy package (petition, schedules, and statements), not just part of it. Answer the series of questions in the order presented by eSR, and the program will fill out the required documents.
It usually takes three to six hours to enter your information into eSR. You can do it all at one time or over several sessions.
If you need technical or procedural assistance on eSR, call our customer service counter at 251-441-5391 Monday through Friday between 8:30 AM and 4:30 PM central time. However, the clerk's office cannot provide legal advice.
Click on the picture below to get started: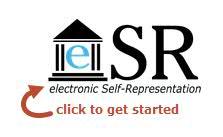 After you submit the Chapter 7 eSR Bankruptcy Package, the Clerk will send you an email confirmation. The confirmation will contain instructions about submitting the additional items identified below that are required to complete your bankruptcy filing. Important: Your bankruptcy package is not filed unless and until the court receives the required additional items.
Disclosure: As part of submitting your petition to this court electronically, the court collects your IP address. Your computer uses IP addresses every time you are connected to the Internet. Your IP address is a number that is used by computers on the network to identify your computer so that data (such as the Web pages you request) can be sent to you. We collect this data as a security measure to protect against fraud and unauthorized access to government computers.
To complete the filing process, you must submit the additional items listed below to the U.S. Bankruptcy Court within 10 calendar days. The document(s) must be either hand delivered, or sent by U.S. mail or overnight carrier, to this address:
U.S. Bankruptcy Court
Attn: Electronic Pro Se Filing
113 St. Joseph St.
Mobile, AL 36602
Items you must send or deliver to the court:
A photocopy of the front of your government-issued photo identification such as your driver's license or passport.
A money order or cashier's check made payable to the Clerk, U.S. Bankruptcy Court in the full amount of the filing fee, or cash in the exact amount (do not mail cash payments),


Certificate of Credit Counseling for each debtor (if you have an electronic version, print it. Approved Agencies for Credit Counseling and Debtor Education),


OR Motion for Temporary Waiver of Budget and Credit Counseling Requirements;
OR Motion to Waive Budget and Credit Counseling Requirements;

A completed

Form ESR (rev 09/21) Signature Page: Declaration by Self-Represented Individual

printed and signed.
If

Initial Statement About an Eviction Judgment Against You (Individuals) (Official Form 101A)

was part of your bankruptcy petition package, you are required to serve a copy of this form on your landlord when your case is officially filed.

Pro Se Electronic Notice for Debtors

(required only if you consent to receive notices electronically and waive your right to receive them by United States mail).
The Clerk will file your case on the date the additional items are received. If all items are not received the court will send you a Notice of Documents Due.