Welcome

to the Official Website for the United States Bankruptcy Court Southern District of Alabama.

Margaret A. Mahoney, Judge
William S. Shulman, Chief Judge
Leonard N. Maldonado, Clerk

NOTICE: The Maintenance schedule for the Centralized ECF Servers is the first and third Saturday of each month from 4 AM CST until 12 PM CST.

IMPORTANT NOTICE:
Beginning July 28, 2014, eFinCert will require a PACER login. To obtain a PACER login id, please visit http://www.pacer.gov/

PACER Maintenace
DATES/TIMES: 6:00 P.M. Central Time on Thursday, August 7,
2014 to 5:00 A.M. Central Time on Monday, August 11, 2014
For a list of other function downtimes, see the PACER
Downtime Notice (August 7-10) page
(http://www.pacer.gov/announcements/general/downtime.html).
NOTE: An existing attorney will have the ability to e-file
during these downtimes.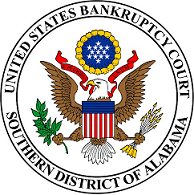 Court Locations
Other Resources
Best Practices,Email Blasts & Notices
**BLAST EMAIL*** U. S.  BANKRUPTCY COURT SOUTHERN DISTRICT OF ALABAMA More »
**BLAST EMAIL*** U. S.  BANKRUPTCY COURT SOUTHERN DISTRICT OF ALABAMA More »
U. S.  BANKRUPTCY COURT SOUTHERN DISTRICT OF ALABAMA More »